Total of USD 2.9M raised from 1st and sole investor for deeper focus into industrial asset tracking for Supply Chain, Construction and Facilities Management Sectors
Singapore, 6th December 2018: Overdrive IOT Pte Ltd, a Singapore-headquartered start-up founded by CEO Aston Chia and COO Zen Chin, announces the completion of the company's Series A round with Southeast Asia B2B venture capital fund, Tin Men Capital.
Overdrive operates an IOT platform that automates data sensing of various types of assets within a business ecosystem, from vehicles and machinery, to goods and people. It leverages on a "mash-up" of different connectivity technologies and curated 3rd party devices, that is configured to optimally deliver business objectives such as real-time tracking and monitoring, exception alerting and command centre visualization.
Since inception in 2015, Overdrive has been able to deliver such reliable working systems to customers, across small to large scale implementations, such as Sentosa, Nanyang Technological University, Fedex, Ascendas, Ministry of Manpower in Singapore, and Volkswagen and Mazda in Malaysia via its local IoT partner. It is differentiated by the platform's robustness and scalability, open architecture to ingest both in-house and partnered intelligence modules, and its ability to tweak device-level firmware and connectivity for challenging environments.
Tin Men Capital is a South-East Asia-focused, operationally intensive, B2B venture capital firm. The firm is licensed by the Monetary Authority of Singapore and run by venture investor-operators Murli Ravi, Jeremy Tan and Benjamin Tan. (For more information, please visit www.tinmen.asia.)
"We have known Overdrive for some time now, even before Tin Men was officially launched and we have worked with Aston and Zen from when the business was at a seed stage. As such, we are extremely pleased that the founding team have risen to the challenge. They have grown the business to a stage where it is ready for accelerated expansion into the sectors and geographies that Tin Men is aligned with, and hence right for our investment and continued operational support," says Tin Men co-founder, Benjamin Tan.
"Overdrive has built a powerful and dynamic platform in allowing any devices and sensors to communicate with each other and with data and video capabilities. In order to keep our current and potential customers invested in our vision, we continue to upgrade our platform aggressively to stay ahead. With Tin Men's involvement, we will expand our business regionally, focusing on logistics, facilities, transportation and people," adds Aston Chia, CEO and co-founder of Overdrive.
"We are scaling up our R&D bandwidth as we speak and have already embarked on a few industrial level implementations with customers in Singapore and Malaysia, with more markets and sectors, being targeted over the next 18 months," remarks Zen Chin, COO and co-founder of Overdrive.
The 2 co-founders first met as university-mates in Australia, are both technologists, and this is their 2nd business together.
For interview requests, please contact:
Aston Chia (aston@overdrive.sg)
ABOUT OVERDRIVE & TIN MEN CAPITAL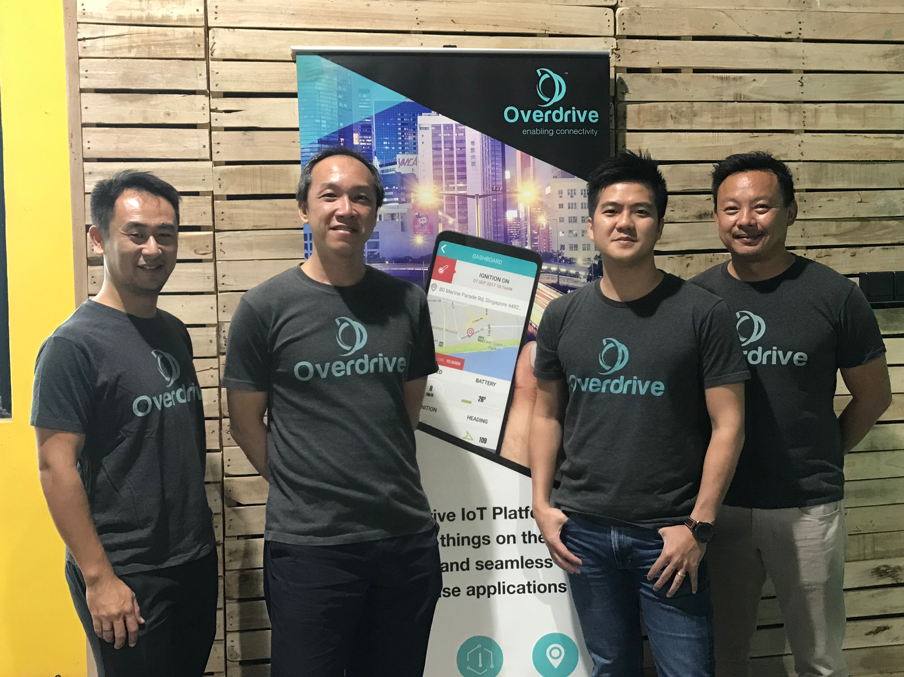 (left to right) Jeremy Tan, Zen Chin, Aston Chia and Benjamin Tan
Tin Men Capital is a Singapore-based venture capital firm licensed by the Monetary Authority of Singapore.
Its co-founders are Singapore citizens Murli Ravi (formerly at Temasek Holdings and JAFCO), Jeremy Tan (formerly at Morgan Stanley and Puma Energy) and Benjamin Tan (formerly at Microsoft & WPP, who also founded and sold 3 businesses). Tin Men's advisory board consists of Mr Robert Binyon, Mr Haresh Khoobchandani, Mr Lee Ah Boon, Mr Tan Chin Hwee and Professor Bala Vissa.
Tin Men invests in industrial technologies and automation opportunities that are coming to the fore in South-East Asia spanning segments such as smart cities, security, manufacturing, agriculture, transportation & supply chain, retail enablement, travel & tourism, and enterprise productivity.
ASTON CHIA YEE JING CEO, OVERDRIVE
aston@overdrive.sg
Aston is a technologist and solution architect at the heart, having learnt his craft at Monash University Australia with a Bachelor of Computing in 2005. He then led a developer team for Wired-Up Mobile Solutions, architecting and developing a mobile back up solution for VAS for major mobile operators in Asia. He went on to help Bayer Southeast Asia plan, design and coordinate the execution of their largest data center migration into 2 new data centers.
Prior to starting Overdrive, Aston led the design and development of EaziCall, a callback mobile solution for Singtel.
He is 36 yrs old and married with a baby boy.
ZEN CHIN FOO LEONG COO, OVERDRIVE
zen@overdrive.sg
Zen is 45 yrs old and a renaissance man, having spent time as a business analyst and technical support, before embarking on his higher education as a mature student in Australia, picking up a Bachelor of IT from Monash followed by an MBA from University of Western Australia.
On his return to Singapore, he worked for EDS, focused on government projects and border control systems, then at Firium where he handled business process re-engineering in the area of wealth management and investment banking, for clients such as Aviva and Standard Chartered Bank.