Changi Airport Group awards the VETA System to Overdrive IOT
SINGAPORE- Overdrive embarks on an incredible win as Changi Airport Group, an eight-time winner of the World's Best Airport, appoints Overdrive as their official vendor to design, develop and deploy the Vehicle Tracking at Airside (VETA) System at Changi Airport.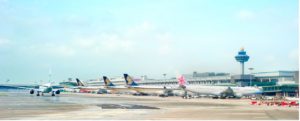 After a year of successful tests and trials, Overdrive has triumphed over a pool of prominent vendors who took part in the project bid.
To build airside situational awareness at Changi Airport, Overdrive meticulously develops the VETA system that will serve as a crucial data enabler to help CAG meet its long-term vision for safety, capacity, and efficiency.
The VETA System aims to collect the tracking data of all airside vehicles into an integrated asset tracking system (VETA System), with added applications of fleet management functionalities. Overdrive designed the system to enable the monitoring of up to 4,000 vehicles and is scalable to facilitate future expansions. This includes the tracking of passenger buses, baggage transport, cargo vehicles, runway sweeper trucks, tank truck, as well as vehicles that occasionally enter the airside such as medical and civil defense vehicles.
Key features and benefits include:

Enhance Safety
Provide visibility on all airside vehicles and promote safe driving culture by monitoring driving behaviour through real-time and historic reports.

Increase Capacity
Ability to know congestion occurrences so CAG can maximise available gates and spaces to avoid delays, traffic, or unwanted waiting time.

Improve Efficiency
Real-time visibility on roadway conditions so CAG can respond faster, better plan airside operations, and eliminate any delay in the aircraft turnaround process.
The development of the VETA project is a joint effort of CAG and Overdrive to anticipate the expansion of CAG's business operations and welcome the public as the borders are open.
Want to fly with Overdrive? Get in touch with us today!